Paralympics Ireland remit extended to lead talent ID and athlete development pathway
Paralympics Ireland today published its new four year strategic plan entitled Securing Success Together before an audience of its member sports at an event in Bewley's Hotel Ballsbridge, Dublin 4. The plan outlines a new strategic direction for the organisation which will see it lead the development of a sector wide talent identification model, and athlete development pathway for Irish Paralympic Sport.
Following an extensive and inclusive consultation process across all the key agencies and individuals within Irish Paralympic sport the need for a coordinated and managed approach to athlete development was identified.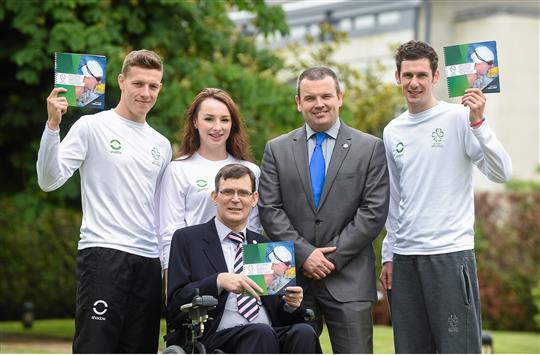 Whilst it was acknowledged by all stakeholders that elite Irish Paralympic sport has witnessed unprecedented growth on the back of the heights of London 2012, in order to secure sustained success the movement must move in a coordinated manner to prioritise the development and implementation of a research led talent ID model, and clear athlete pathway right from entry at participation level, through to podium.
The strategy outlines the key steps that Paralympics Ireland needs to take to see this key goal move from research, build, and pilot phase through to the implementation which will commence in 2017. If the sector can work as one entity towards this shared vision the lasting rewards will be evident from Tokyo 2020, the 2024 Games, and beyond.
In officially launching the strategy Paralympics Ireland CEO Liam Harbison stated: "Paralympic sport globally faces a new reality on the back of the huge success of London 2012. The level of athlete performance continues to break new ground, making it essential that Paralympics Ireland moves to develop a talent ID model and performance pathway to secure long term success."
Recognising a lack of influence within the international movement the plan includes a strategy to increase Irish representation at International Paralympic Committee (IPC) level. Whilst awareness of Paralympic sport nationally has increased there is a recognised need to deepen understanding of it through a series of communications activities. Driving greater investment from state agencies, and commercial partners is also a stated goal.
Irish Sports Council CEO John Treacy gave his backing to the strategy; "I would like to commend Paralympics Ireland for their continuous drive to advance the Paralympic movement and for the publication of a clear, concise, and focused strategy. The Irish Sports Council has been a long term partner of Paralympics Ireland and is committed to supporting this strategic plan not only in relation to Rio, but beyond through the Talent ID and Development model."
The audience heard how the plan can be delivered to best effect from three expert speakers; Liam Moggan of Coaching Ireland, Rob Hartnett of Sport for Business, and Mick O'Keeffe of Pembroke Communications.
Three of Ireland's leading Paralympic athletes were also on hand to add their support to the plan; Double Paralympic gold medallist at 800m & 1500m Michael McKillop, double swimming world championship bronze medallist Ellen Keane and Irish Cerebral Palsy football team captain Luke Evans. All three have their individual European Championships on the horizon this summer, in Swansea, Eindhoven, and Portugal respectively.
To download a copy of the Securing Success Together please http://www.paralympics.ie/wp-content/uploads/2014/05/PI-Strategic-Plan-2014-Low-Res.pdf